My Blue Sky News and Press Kit
Photos - Logos - References
---
Backstage Flash 2022 Review
"My Blue Sky has been keeping the memory of the Allman Brothers Band alive and well for many years now. They continue to represent the music with authenticity, respect and their own flavor added on top. They are historians of music culture and are immersed in their craft of recreating history every time they perform. They also record their own music that has similar lines as their southern rock heroes. Last night they were honoring "Eat A Peach" the classic Allman Brothers album that was released fifty years ago today, February 12th, 1972. They covered all of the songs on the album including Melissa, Blue Sky, One Way Out and the rest of the tracks from the album as well as many other ABB classics like Southbound and Ramblin' Man. The crowd had a great time on this nostalgic evening celebrating one of the greatest recordings ever released. Thanks My Blue Sky for a wonderful evening of memories."  2/11/2022 Backstage Flash
---
My Blue Sky Included in the Colorado Playlist's Best of 2017!
My Blue Sky's self titled release "My Blue Sky" was included in the Best of 2017 list published on 1/1/2018 by the Colorado Playlist! The Colorado Playlist is a weekly show highlighting Colorado artists and is heard on over 20 stations around Colorado.
---
My Blue Sky and Individual Members are Finalists in the Colorado Blue Society's 2017 "Members' Choice" Awards.
Voted on by the CBS members, the categories are:
Favorite Blues Band
Favorite Local Recording for "My Blue Sky"
Favorite Live Moment :John Catt Celebration of Life event with Joe Bonamassa, Jimmy Hall, Reese Wynans, Tommy Castro, and more
Favorite Bass Player: David Brandt
See them at https://coblues.org/members-choice--2
---
My Blue Sky performs with Special Guests Joe Bonamassa, Reese Wynans, Jimmy Hall, Tommy Castro, Kara Grainger and Kate Moss Celebrating the Life of John Catt.
On Thursday June 15, 2017 the blues community came together to honor John Catt the founder of Blue Star Connection and the Blues From The Top Festival. John influenced and was the catalyst for many of the performers for the night. My Blue Sky was honored to be the backing band for many of the special guests. John's influence on My Blue Sky is immeasurable. Thank you John Catt.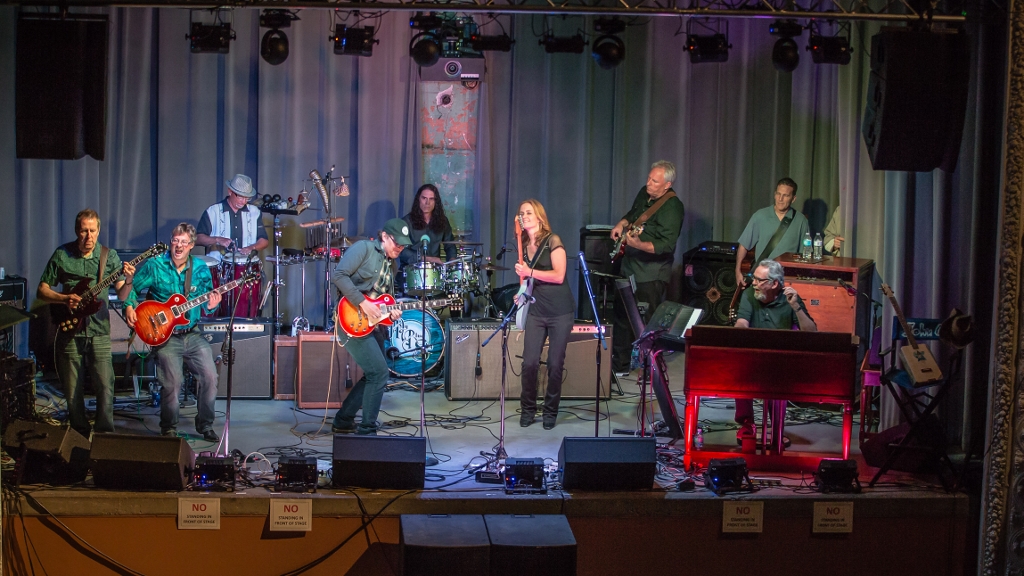 Picture by Richard Hawes
---
My Blue Sky Featured in Bandwagon Magazine Article Spotlighting the Greeley Blues Jam 2017
My Blue Sky performed at the 2017 Greeley Blues Jam in Greeley, Colorado on June 10, 2017 in front of 6,000 people.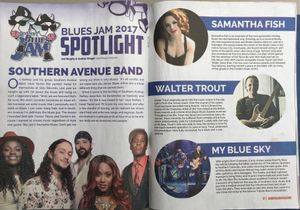 ---
My Blue Sky In Studio Performance at KRFC 88.9 FM Fort Collins. May 22, 2017
My Blue Sky was the guest of Deni LaRue on KRFC's Live@Lunch program. The 1 hour in studio session included band interviews and live acoustic performances of My Blue Sky's original material and several songs by the Allman Brothers Band.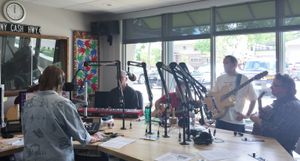 ---
Chris K's Colorado Playlist - 105.5 Colorado Sound -  Colorado Playlist – S11 EP09 3/6/2017
"There's a good reason why MBS is considered one of the TOP 5 tribute bands in Colorado – not the least of which are their flavorful and articulate recreations of the music of the Allman Bros Band family tree… including Gov't Mule."
---
My Blue Sky Hosts "A Tribute to Butch Trucks" at the Fox Theatre in Boulder, CO.
On Feb 25, 2017 My Blue Sky and our Special Guest All Stars played a 3 hour 15 minute tribute to the late Butch Trucks the founding member and drummer for the Allman Brothers Band. All Star guests included: Michael Travis (String Cheese Incident), Jeep MacNichol (The Samples), Jock Bartley (Firefall), Brian McRae (Drumoverdubs and the Kyle Hollingsworth Band), Billy Hoke (Boulder Drum Shop), Forrest Raup (Eldren), Chris Stongle (Tasty Ruckus), Tudie Calderon (John Oates), Curt Pleiss (Broken Land), Frank Registrato (Bonobos Convergence with Vaylor Trucks), Dan Treanor (Cisco's Kids, Colorado Blues Legend), Jimmy Ayers (Deep Pocket Thieves), Grace Kuch (Grace Kuch Band), and Bob Hetsko!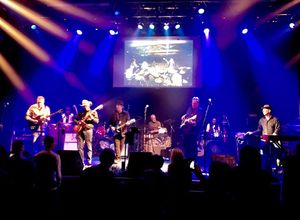 ---
Loveland Reporter-Herald - 1/27/2017 "
Michael Allman joins My Blue Sky for Loveland show"
"It's one of those moments that you can close your eyes and think you are with the Allman Brothers."
---
Wyoming Tribune Eagle - 1/22/2017
"Allman Brothers tribute band to perform in Loveland with Allman family member"
"He didn't expect that in the short time after forming the band, he'd end up meeting legendary musician Gregg Allman – or performing onstage with Gregg's son, Michael. But, that's the case for the tribute band's upcoming performance at the Rialto Theater in Loveland, Colorado. Michael will join the group for the latter half of their concert, playing not only his father's music, but his own, too."
---
My Blue Sky's EP Release Debuts November 1, 2016!
My Blue Sky's self titled debut release will be available for purchase in the My Blue Sky Store, iTunes, Amazon MP3, Groove, and other popular download sites on November 1, 2016. The EP includes 5 My Blue Sky originals and 2 songs by Gregg Allman and the Allman Brothers Band.

Reviews:
"One of the top tribute bands in the region (Allman Bros Band / Gov't Mule), the debut by My Blue Sky shows they're capable of writing jams worthy of the bands they pay tribute to." Full review HERE Chris Kresge coloradoplaylist.com 

" Wow!! Just got through listening to My Blue Sky new album release. It just doesn't get any better than this! They have taken their music way beyond covering and honoring the music of the Allman Brothers and their songwriting ranks with the best of southern rock!  Highly recommend this album for a great listening experience and this band for any festival or music venue anywhere.  Pam Bricker, Chair Greeley Blues Jam Festival www.greeleybluesjam.com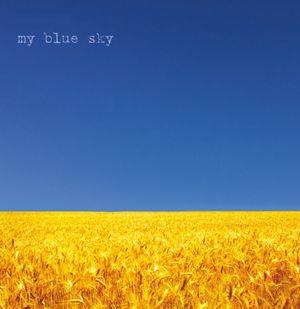 ---
My Blue Sky - Westword Ten Finest Tribute Bands in Colorado
My Blue Sky was selected as #5 in the top 10 list of tribute bands in Colorado. Read here! 
---
My Blue Sky in Blues Blast Magazine's Blues From The Top Festival Review
My Blue Sky was mentioned several times in the review. Blues Blast Magazine Issue 10-32
Excerpt: "Backed by My Blue Sky (Jimmy Hall's Sunday band) members David Brandt (bass), Tim Kestle (guitar) and Jamie McGregor (drums), and joined by Josh Smith (a well known SoCal performer who has come back on the music scene recently, Bart Szop (Keyboards – our favorite Polish Boogie Boy returning for his third year at BFTT), Kara Grainger returned to Colorado and the crowd was pleased to have her back for a third time. The Australian born singer/songwriter is one of the finest blues women living in the USA. Whether she is playing slide or electric, her music is mesmerizing"
AND " As if the energy level couldn't get any higher, it did!! Jimmy Hall with My Blue Sky took over the stage and the happiness level escalated. Jimmy is a bundle of energy and great music spanning decades of blues and southern rock. In addition to band members already listed his band includes his sister Donna Hall Foster, Bob Kalkman, Gretchen Kunz, Kathy Bloom, and a cameo appearance by Tommy Castro, who flew in for this special weekend at BFTT."
---
Jeff Beck and Jimmy Hall Talk Shop with My Blue Sky
My Blue Sky were guests of Jeff Beck and Jimmy Hall during their recent 8/7/16 tour stop in Denver, CO. After the show the band got to spend some time with Jeff, Jimmy and the band.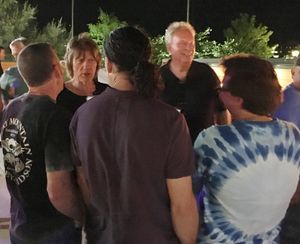 Photo by Monica Brandt
---
Jimmy Hall, Tommy Castro, Donna Hall Foster Perform With My Blue Sky!
www.bluesfromthetop.org  Keep On Smilin.Jimmy Hall (Wet Willie and Jeff Beck), Tommy Castro, and Donna Hall (Wet Willie) performed together at Blues From The Top in Winter Park Colorado on Sunday June 26. Check out the video of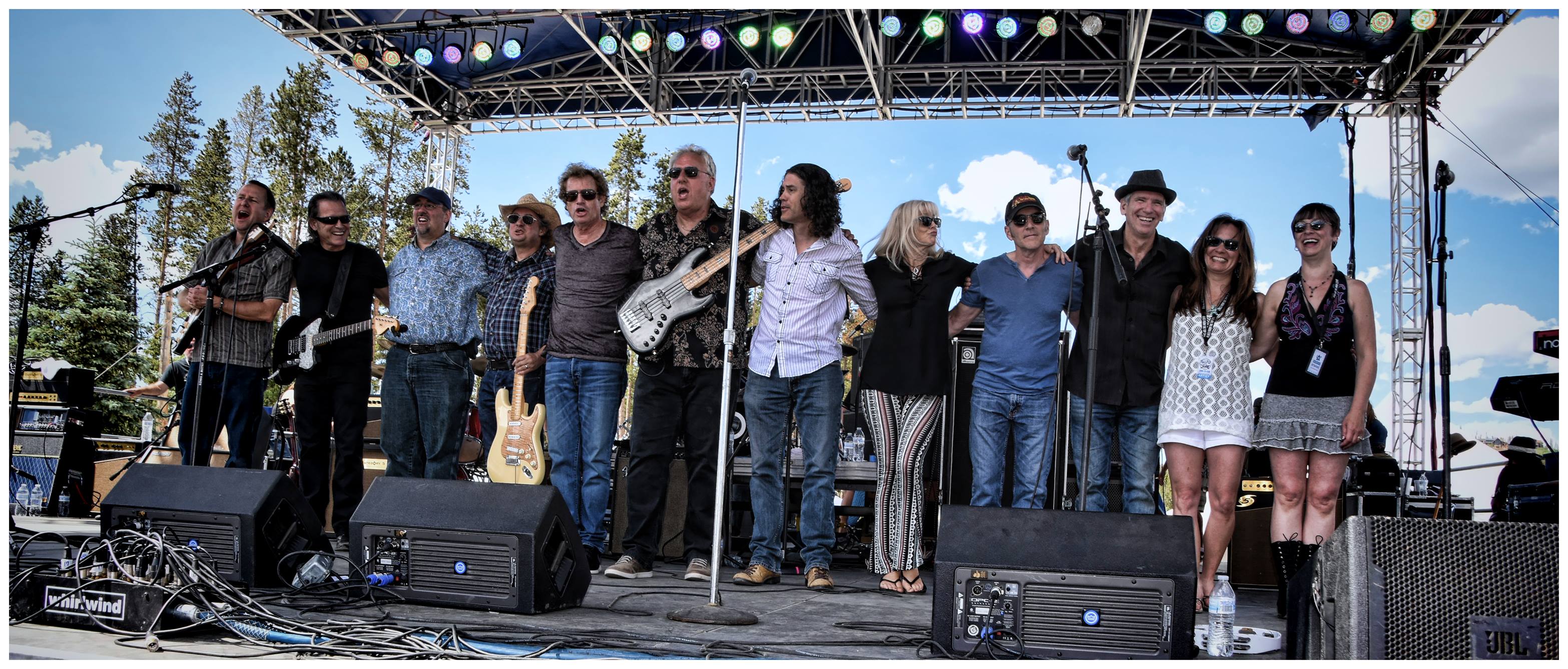 ---
Members of My Blue Sky Perform With Kara Grainger and Josh Smith
Kara Grainger and Josh Smith's set at Blues From The Top
on June 25, 2016
included MBS members Jamie McGregor (drums), Tim Kestle (Guitar), Rob Smith (keyboards), and David Brandt (bass). Other special guests in the set included Jimmy Carpenter (sax), Deanna Bogart (sax), Bart Szop (Keys - Boogie Boys). 
www.bluesfromthetop.org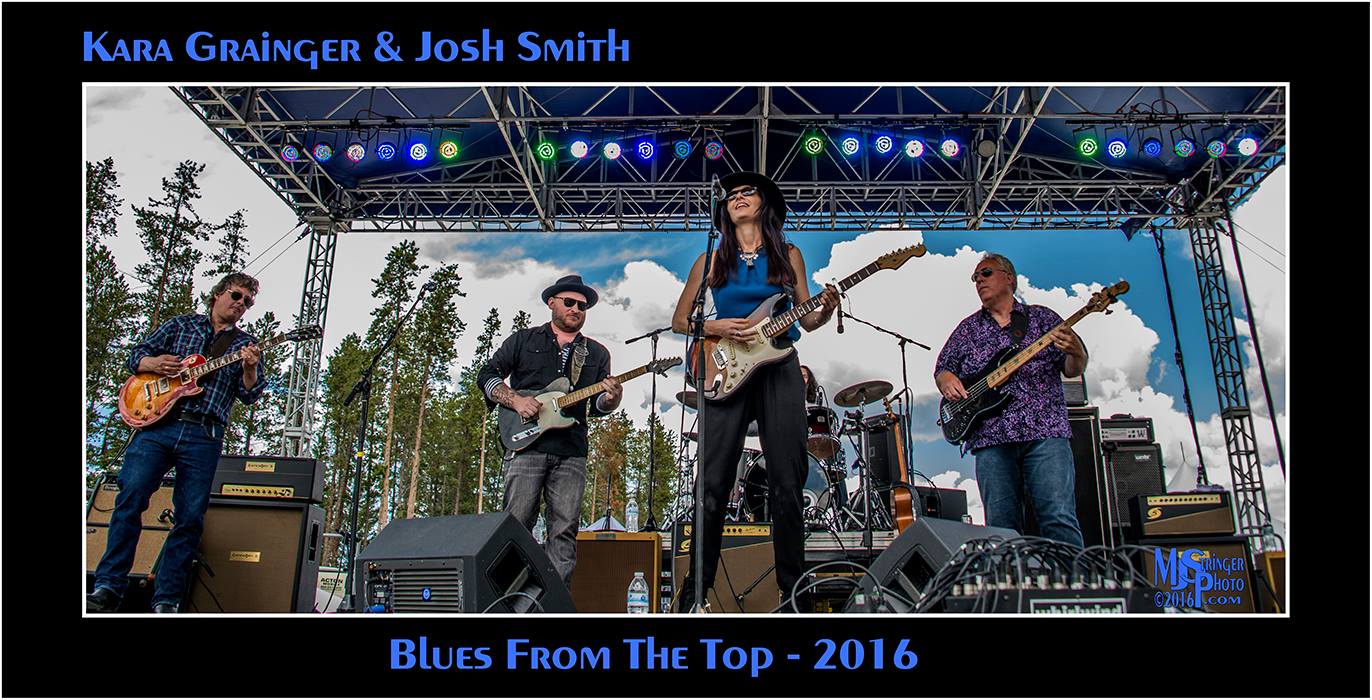 ---
Paying Tribute to Gregg Allman in Person
After the 10/13/15 Gregg Allman Band show at the Boulder Theater in Boulder Colorado. members of the band and our guests were invited to Gregg Allman's dressing room for a visit. Gregg shared some secrets about playing the music of the Allman Brothers Band and we discussed My Blue Sky and received his thumbs up. He was honored that we would continue to perform his music. It was an honor for us to be able to say thanks in person to one of the founding members that we pay tribute to.
---
My Blue Sky takes 1st Place at Leftapalooza 2015 the Mile High Tribute Band Competition! 
August 1, 2015, My Blue Sky participated in the competition sponsored by
Left Hand Brewing
. The competition featured 9 nationally known tribute bands who were judged on the following: Musical talent, Creativity, Authenticity to Original Band, and Audience Response. My Blue Sky placed first and will headline a show at the
Boulder Theater
in Boulder, Colorado. This is the second year in a row that My Blue Sky has taken first place in this competition.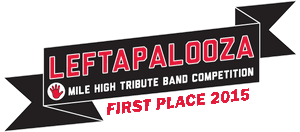 ---