References
"Saw y'all yesterday at the DC Fair... you've really nailed the nuances of the Allman Bros... the instrumentation was spot on, the guitar tones and subtle breaks were perfect... the crowd loved it in spite of the heat and the serious lack of shade... way to tough it out guys! Be seein' you again, hopefully in an air-conditioned setting lol..." Jeff Norman 8/4/2019
"Absolutely a fantastic experience rocking with My Blue Sky. I have missed my favorite live band since their recent break up. My Blue Sky completely brought those great memories of The Beacon, Red Rocks, Albany, Jones Beach and Jersey back. See this band!" Dan Mauer 8/4/2019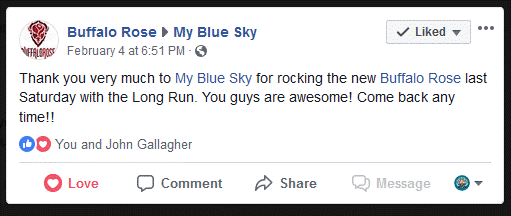 From the Buffalo Rose in Golden, CO. after our 2/2/19 show. 580 tickets sold!
"This is a band that give 150% ALWAYS in their performances. A very talented group of musicians with a very professional on and off stage presence!"  
"Let's hear it for My Blue Sky... they are working hard and kicking ass!"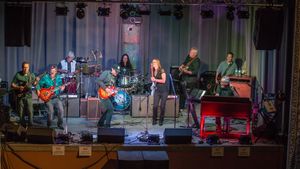 With special guests Joe Bonamassa, Resse Wynans, and Kate Moss
"I've hired My Blue Sky on several occasions for numerous clients and they always perform above and beyond expectations! Always a crowd pleaser, they honor the Allman Brothers Family of Bands in a way that captures and entertains the audience every time. They have never disappointed - they are always spot on musically and professionally! They only get better every year - super tight band!"
Gina Hallisey, Event Producer Get Connected Events
"Ten Finest Tribute Bands in Colorado" -
Westword
"Come out for an amazing rendition of early Wet Willie material and Allman Brothers. I dare you to find a more precise and accurate band to play the music of these trail blazing bands."
Jimmy Hall
of Wet Willie, The Jeff Beck Band, and Hank Williams Jr.
"My Blue Sky was excellent. They accommodated all our needs and were flexible and most importantly sounded great!! Hope to have them back!" City of Brush, Colorado 2018
"I have had the opportunity to see a lot of tribute bands perform over the years. My Blue Sky is without a doubt one of the best. Their tribute to the Allman Brothers family of bands is 100% true to the Allman legacy and to the original songs, which  is no easy task. Each member of the band is a consummate professional, exceptional performer, and master of their trade. And, My Blue Sky is much more than a tribute band. The band's original material and other covers are outstanding. If you have not had a chance to see and hear them, you should make a point to do so.  Right away!"
"Thank you for keeping the music alive for fans like me. My Blue Sky always puts together a great set. Great musicianship, super tight sound and most importantly with smiles on your faces. That's what live shows are all about."
Jay Lucero - Fan
"Thank you for doing what you do. I've seen the Allman's about 50 times and miss them so much but you guys bring back that magic that We all love so much." - David and Angie - Fans
"I knew what I was getting when I booked My Blue Sky, that's why I booked them. I had seen them multiple times and each time they did a great job. I highly recommend this band. Not only are they one of the best Allman Brother tribute acts out there, they are super easy to work with and very professional."
After the 10/13/15 Gregg Allman Band show at the Boulder Theater in Boulder, Colorado, members of the band and our guests were invited to Gregg Allman's dressing room for a visit. Gregg shared some secrets about playing the music of the Allman Brothers Band and we discussed My Blue Sky and received his thumbs up. He was honored that we would continue to perform his music. It was an honor for us to be able to say thanks in person to one of the founding members that we pay tribute to.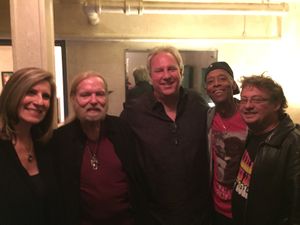 Monica Brandt, Gregg Allman, David Brandt (MBS), Chank Middleton, Tim Kestle (MBS)
"Your band did a wonderful job for the kids. Thank you. One of my favorite weekends ever."
John Catt, Blue Star Connection
www.bluestarconnection.org
"Thanks again for coming up this summer!  Community vote: My Blue Sky was one of the favorites."
Maria Chavez - Membership Services Director, Winter Park & Fraser Chamber
www.playwinterpark.com
"My Blue Sky rocked the West stage! Lots of energy and great harmonies on the guitars. I loved it and so did all my friends. Duane would be proud. Thanks for playing the 16th Annual

Blues & BBQ for Better Housing block Party!"
Ranger Miller - President -Blues & BBQ for Better Housing Foundation

"They told me they thought they were a good band...They are a GREAT band!"
Pete MacKay - Legendary Colorado radio personality  104.7 The Mile FM